Integrity Home Services LLC: Quality Gutters and Expert Gutter Installation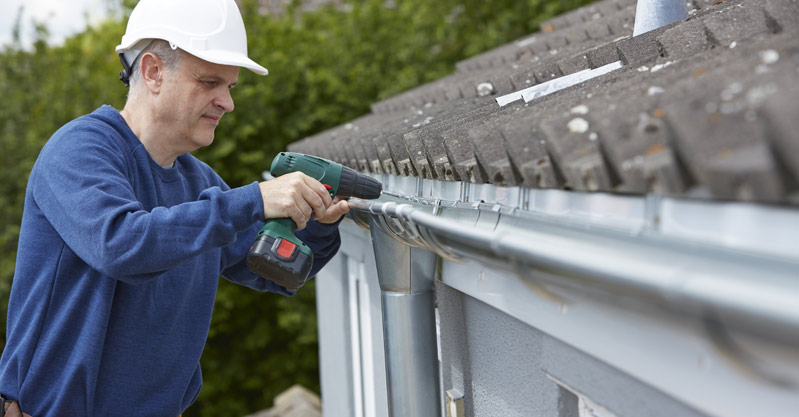 You hardly ever notice the importance of gutters in your home, until you realize that they've worn down and need to be repaired or replaced. Maybe, a strong downpour has just caused water to overflow to parts of your home where it shouldn't? For professional gutter installation, Integrity Home Services LLC is guaranteed to provide you topnotch quality work. We are, after all, fully licensed and insured. In fact, we have almost 3 decades worth of skill and experience in the business, have held a Home Improvement License for twenty two years, and a State of Connecticut license in residential Home Inspection for more than ten years.
Importance of having a good gutter system
Gutter systems comprising of the gutter, fascia brackets, downspouts, end pieces, straps, spikes, and more, play an important role in keeping our homes protected from unwanted water spillage. It is a water channeling system that ensures that water from rainfall flows away from the more vulnerable areas of our home such as the walls and the foundation, keeping these components free from damage. Aluminum is a very sturdy yet affordable favorite option for gutter material. Thus, Integrity Home Services LLC offer aluminum .032 gauge seamless gutter and drains in both standard 5 inches and a commercial-grade 6 inches.
Gutter Protection and Maintenance
When your gutter gets clogged because of debris from fallen leaves or twigs, it can cause your roof to leak, which might lead to further damage to other parts of your home. That is why it is important to regularly check your gutters. Though a quick gutter check would simply involve removal of debris and a quick look around, we often overlook this chore because, well … who want's to have to do it, right? Fortunately, with seamless gutters, you'll need to do this task less often. Debris often collects in the gutter's seams, so seamless gutters are relatively low maintenance. Additional protection in the form of gutter guards may also be added to the system to improve its life expectancy. Integrity Home Services LLC offers a variety of gutter protection materials, screenings, and caps to help lessen your gutter worries even more.
Reasons to hire a professional gutter installer
Safety – The number one reason you'd want to hire a pro to do your gutter installation is because it can be a safety hazard to climb up a ladder and simultaneously have to work with sharp tools and heavy equipment.
Expertise – Gutter work is all about accuracy in measurement. Integrity Home Services LLC has had many years of "in the field" experience which allows us to better determine the specific requirements for your gutter system and create the best custom design for it.
Saves time – gutter installation is time-consuming work, even more so if you are not a professional. This would mean that you'd be dropping your other commitments to be able to work on your gutter installation.
Saves money – as professional contractors, we are able to purchase materials at wholesale prices, plus we'd save you more money by getting the work done quicker than you would by doing it yourself. Also, poor gutter installation could give rise to more problems, costing you more in future repairs.
Right tools for the job – DIYing your gutter requires you to invest in appropriate tools. That neither saves you money nor your time. Hire a pro, so you need not worry about that.
Trust Your Gutters to Us. Call Integrity Home Services LLC Today!
Call us at (203) 922-2408 to have us do the job for you. Our Business hours are Monday to Saturday from 7:00 am to 7:00pm.